Reviews
NANO Antivirus Pro is continually reviewed and recommended by top cybersecurity reviewers and organizations. Below are some of our most notable recent reviews.
Also, you can read the real users' and editors' reviews on the trusted sites: SafetyDetectives, Capterra.com, g2.com.
Virus Bulletin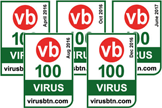 The leading global IT publication and test laboratory Virus Bulletin, which regularly conducts comparison tests of the detection rates of antivirus software, reviewed NANO Antivirus Pro in October 2016, bestowing it with the prestigious VB100 award. This award is only given to products that, when independently tested by Virus Bulletin, reliably detect 100% of known viruses. The Virus Bulletin's independent test of anti-malware solutions represents a recognized industry standard around the globe.
NANO Antivirus Pro achieved 100% detection of all malware samples and total absence of false positive detection incidents. In addition, the software received the maximum stability designation due to its flawless performance during all testing periods.
"NANO has impressed over the last few tests with a steady trend of improvement across the board, and this month it did well once again. Stability was impeccable, system impact quite acceptable, and detection pretty decent, including flawless coverage of the Wild List sets. The clean sets have been a bit of a problem in previous tests, but this month all was clear there too. Thus, just a short time after we first started looking at this all-new product, NANO should be very proud to claim its first VB100 certification."
Download PDF
"NANO should be proud of its performance in our tests of late, picking up its first few passes and showing every sign of becoming a solidly dependable product. Stability was flawless this month, with no issues noted. Detection remains a little below par but seems to improve month on month. Performance impact was reasonable, and another good showing in the certification sets earns NANO its third VB100 award."
Download PDF
Microsoft®
NANO Antivirus Pro is a Microsoft® Recommended antivirus and malware solution for Microsoft Windows 8 and Windows 10.
Microsoft® Club
"NANO offers a UI with all required functionality easily accessible. It is designed for beginners as well as IT specialists – who can use some of its advanced features to protect the system. In the basic UI mode, there is not much to play around with, but in the Advanced UI mode, users can perform various tasks and can tweak the antivirus program the way they want."
BusinesNewsDaily.com
"In addition to viruses, NANO Antivirus goes the extra mile — unlike most free antivirus software, NANO also protects against winlockers and ransomware. NANO also aims to provide reliability, speed and convenience."